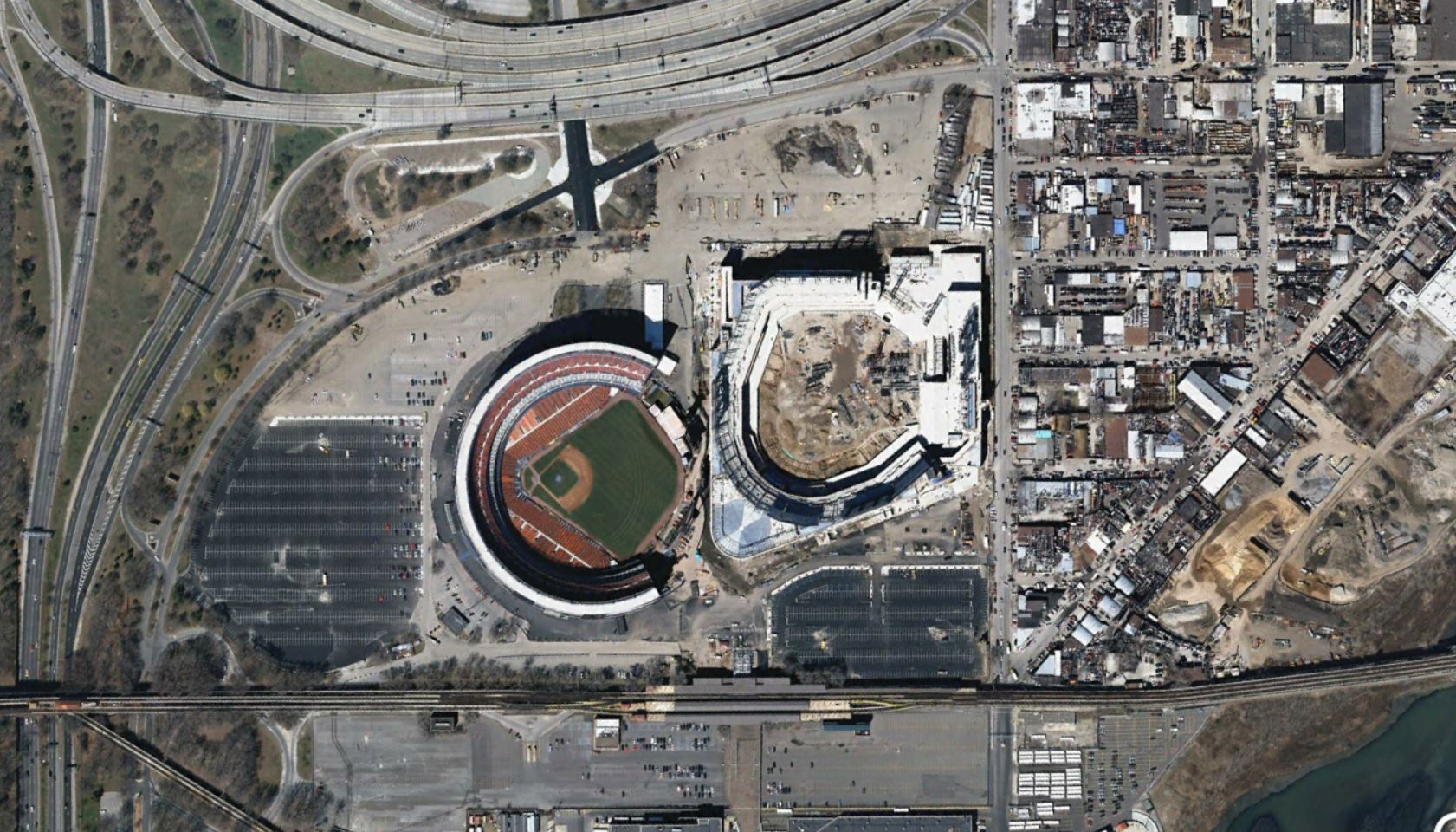 Shea Stadium adjacent to its replacement, Citi Field, under construction (circa April 2008)
Thinking Outside the BOWL:

Queens Community Stadium at Flushing Meadows-Corona Park
Kevin Jiang, B.Arch
Advised by Hal Hayes, Jeffrey Davis, and Raymond Gastil
with additional help from Valentina Vavasis and Nina Chase
---
01 White Elephants and Failed (False?) Catalysts
---
02 Strategies for Integration
---
03 Flushing Meadows-Corona Park, Then and Now
---
04 An Alternate Recent Past
---
05 Thinking Outside the Bowl
In particularly high-profile cases, stadia have generated serious concerns and controversy over their true costs and impact on communities. To justify the exorbitant costs of building a new stadium, it is often portrayed as a catalyst that will provide economic and social benefits. However, research has shown that that is rarely the case and some even become white elephants.

The ineffectiveness of the stadium is largely a result of development- and profit-driven priorities and a lack of integration with its physical, social, environmental, economic context. The value of the stadium should instead come from its ability to connect to its locality through those means.

This one-semester thesis seeks to rethink the role of the stadium—not as a catalyst, but as a component within larger urban planning frameworks. Its intent is to invite and involve communities in the life of the stadium, serve as an anchor for amenities and greenspace, facilitate ecological improvements, and establish consistent and varied uses at different scales both within and without the stadium bowl.

Set in an alternate reality beginning in the aftermath of New York City's failed bid for the 2012 Summer Olympics, the main site is a 2.1 million-square-foot piece of land remaining from the construction of Citi Field to replace Shea Stadium. Rather than keeping that as surface parking and roads like in reality, it will become an exciting addition within Flushing Meadows-Corona Park.
01 White Elephants and Failed (False?) Catalysts
02 Strategies for Integration
Underlying Cause: Lack of Integration

To improve the chances for a stadium to succeed more as a community amenity or local institution, it must better integrate itself into its surroundings. While the physical issues with stadia are evidently the most conspicuous, there are other types of issues more entrenched in perception and policy.

Drawing from multiple academic works on this topic, I have categorized them into four different types of integration that stadia so often lack: physical, social, environmental, and economic. The issues with integration manifest themselves through a variety of symptoms, but there are a number of strategies to avoid, mitigate, or resolve them. These symptoms can detract from more than one category of integration and the strategies can address multiple symptoms in different ways.
Underlying Causes and Strategies to Address Them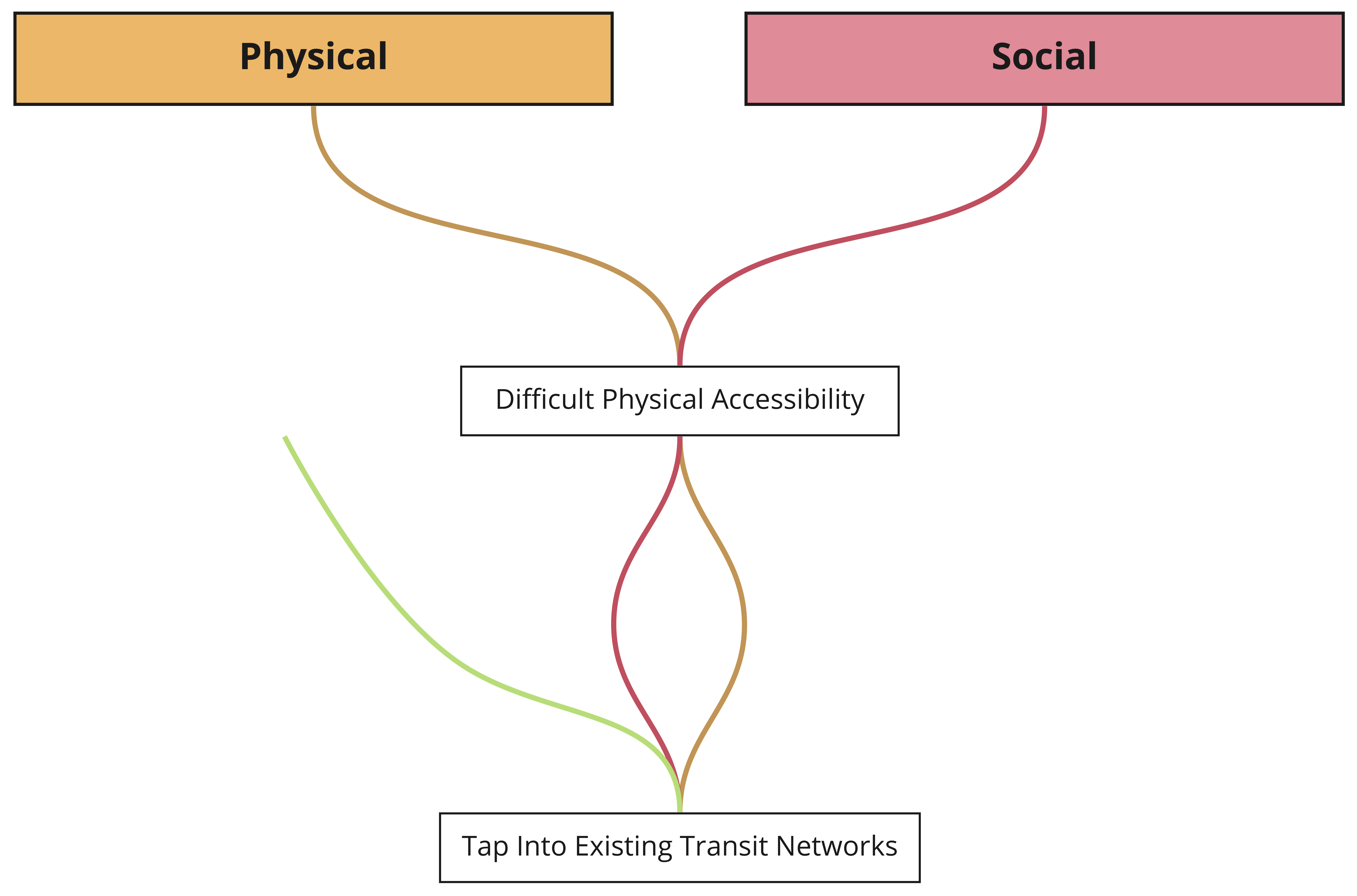 How to read the chart
:
In the example above,
difficult physical accessibility
contributes to a lack of physical as well as social integration.
A strategy is to
tap into existing transit networks
. Public transit can be a physical strategy because it provides a physical, infrastructural link to the stadium. It becomes a social strategy when the availability and use of public transit is actively promoted as a matter of policy.
Using the existing public transit infrastructure is also an environmental strategy because it means less cars are on the road to get to the stadium and idling in congested traffic. This environmental aspect doesn't address
physical accessiblity
, but rather the harmful
moat of parking
that typically comes with a stadium.
How to read the cards:

Strategy Cards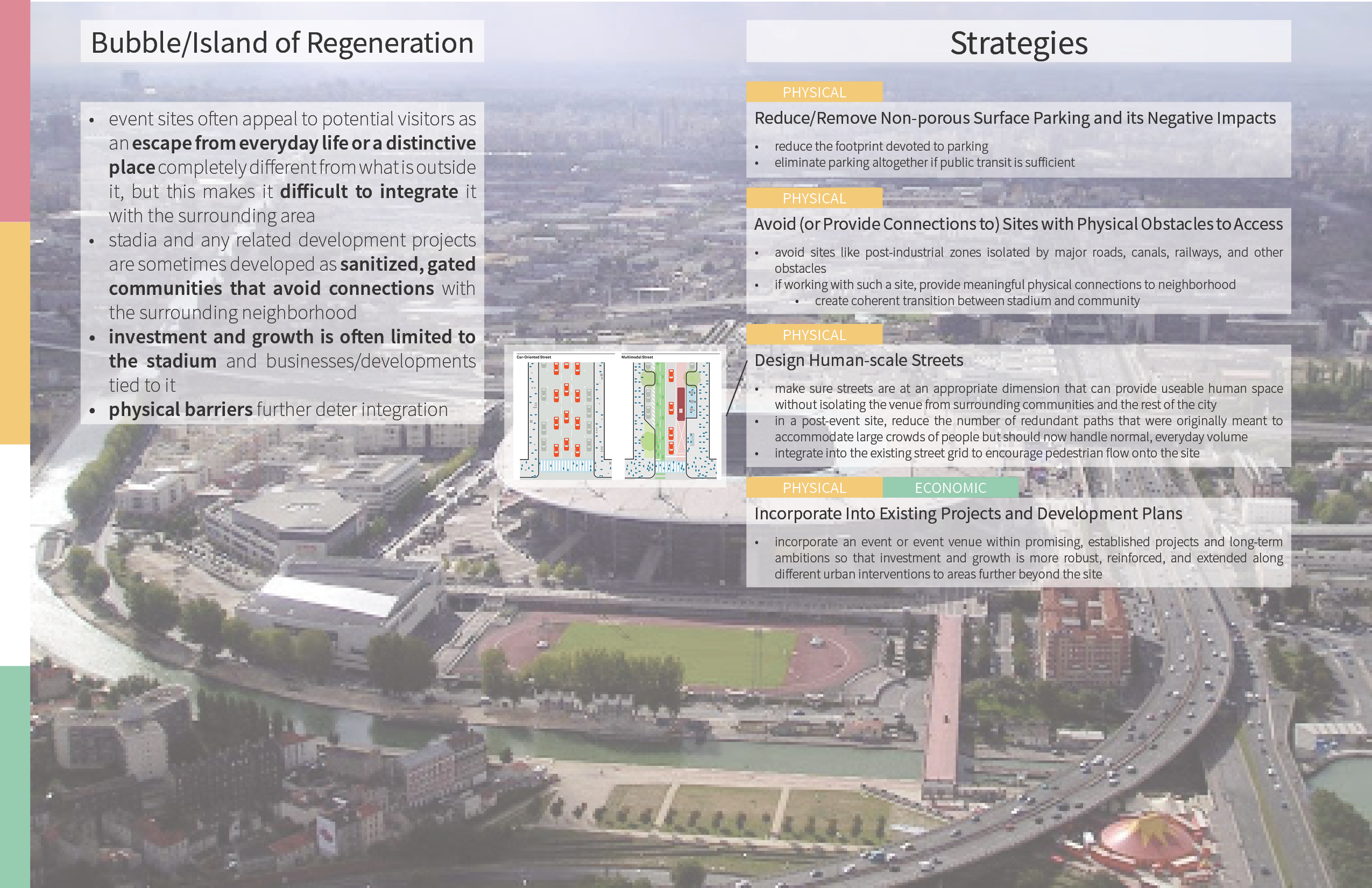 Applying the Strategies to a Site

I will now apply a number of these strategies to the site I have chosen for my intervention: Flushing Meadows-Corona Park in Queens, New York—specifically the area to the west of Citi Field located at the northern end of the park. This park has significance for me as I have lived a 10-15 minute train ride from it all my life and have gone to institutions and events located within since my childhood. I have seen the dramatic changes that have taken place over the last decade-and-a-half on both sides of the 7-train line as I commuted between home and Flushing, but only recently began to understand the turn of events and forces at play that led to these developments.

These strategies should be applied in a site-specific way and adapted to the unique character of the surrounding area. For me, the richness of my site comes from the multicultural dynamism and globally-oriented ambitions that have been a constant thread in the history of Flushing Meadows and Queens—one of the most diverse counties in the U.S.—and how that history has been consistently intertwined with large-scale ecological interventions on the site.
03 Flushing Meadows-Corona Park, Then and Now
A Walk in the Park / A Flight over the Park: Flushing Meadows Today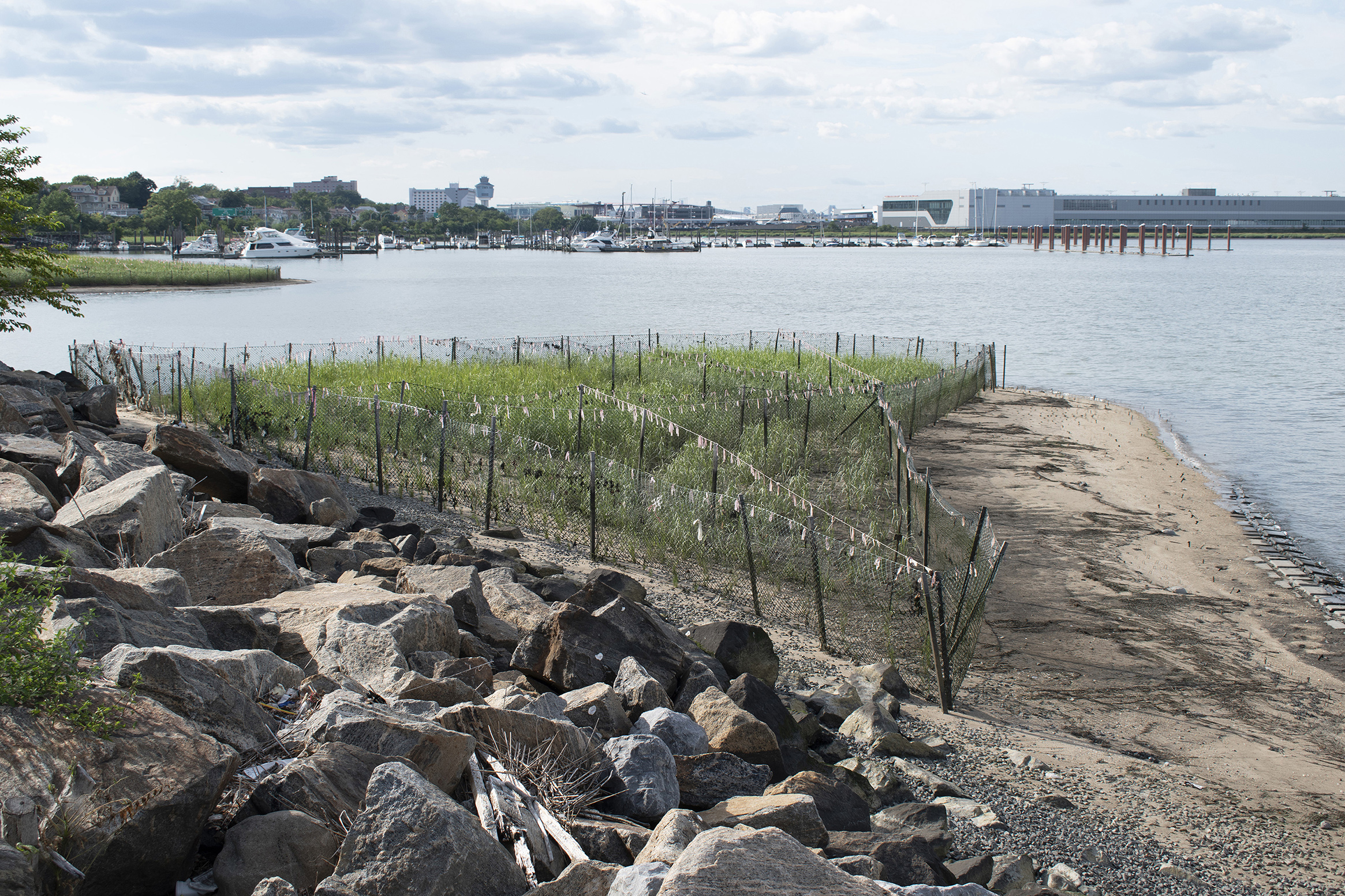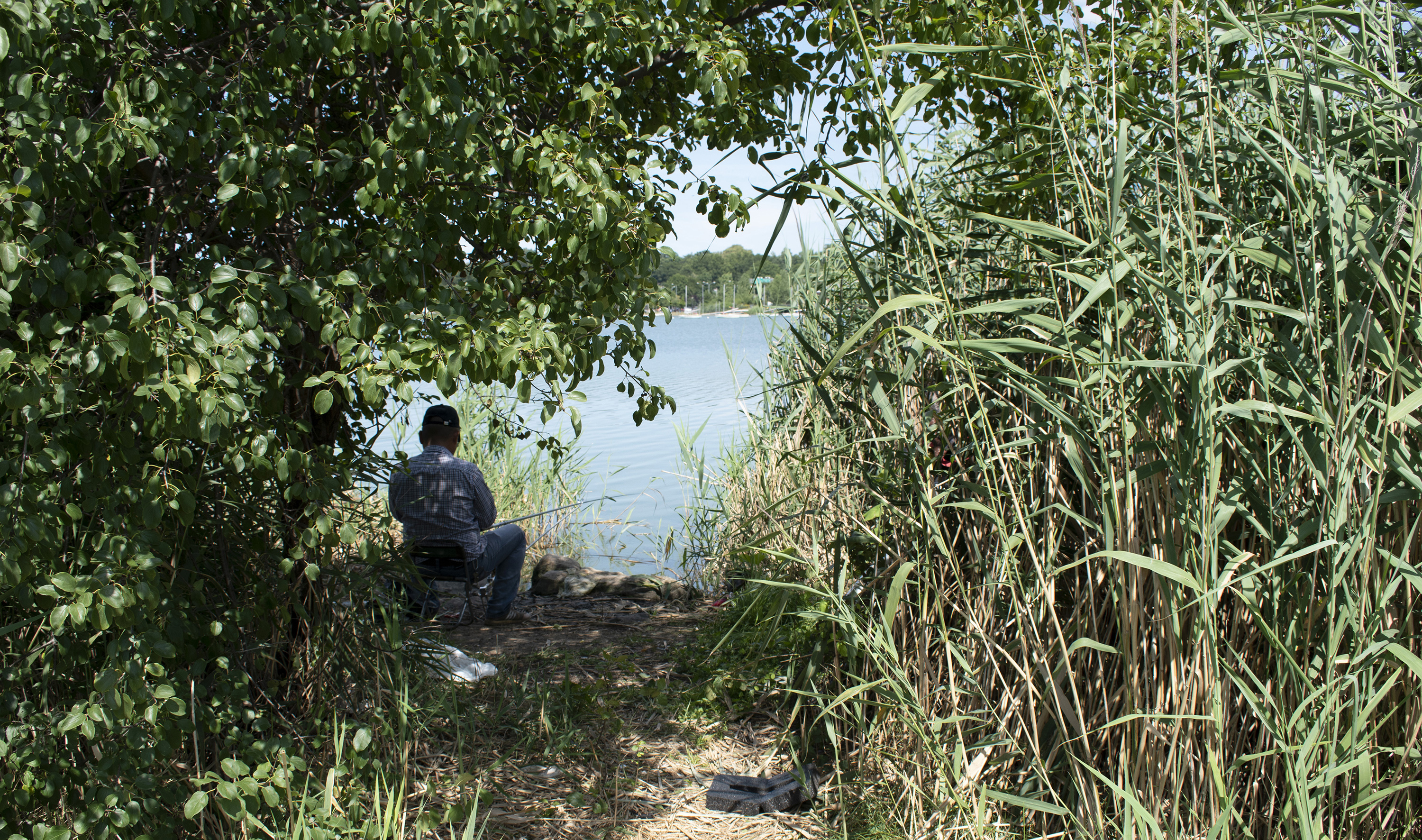 All photographs seen here were taken from personal documentation of the site.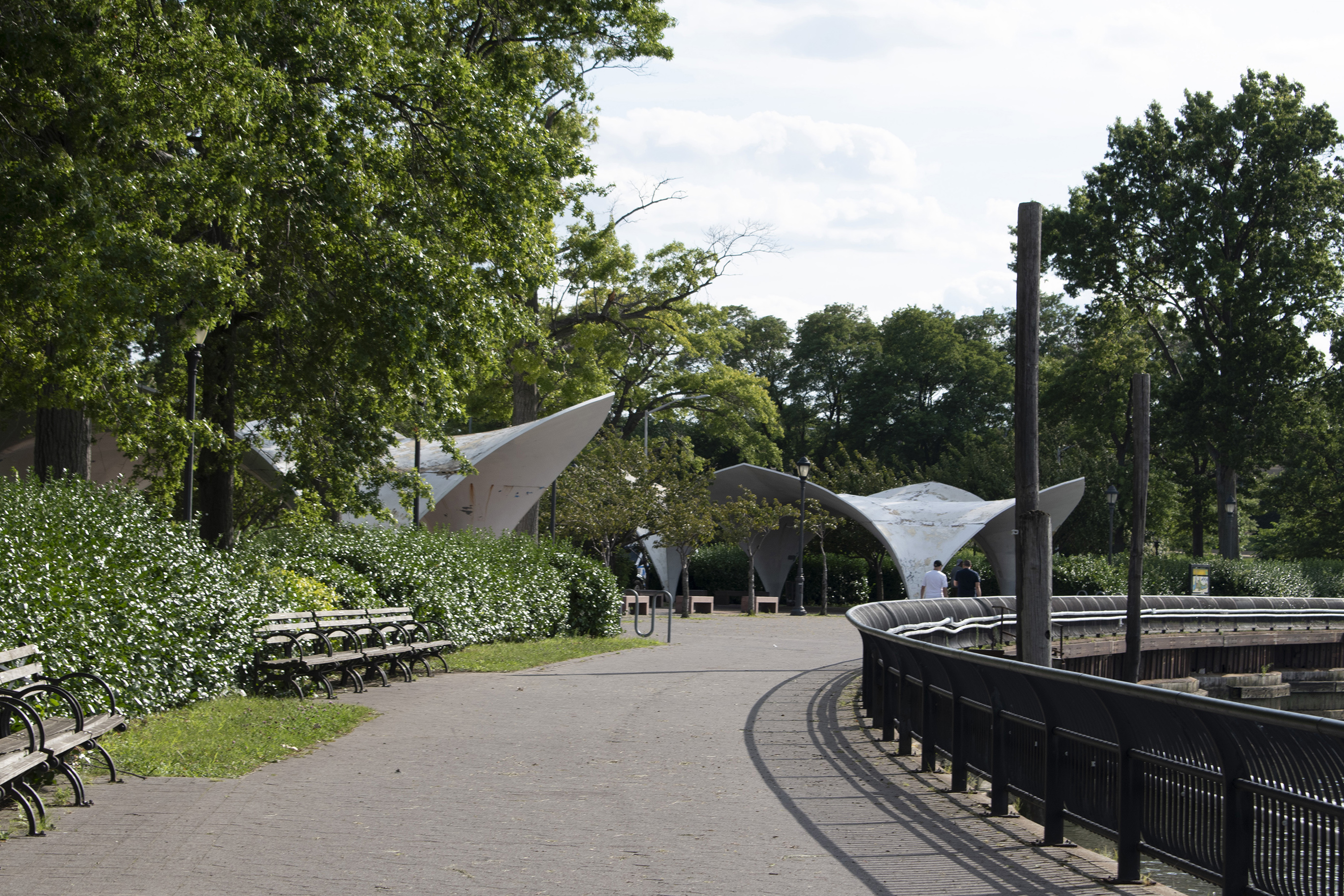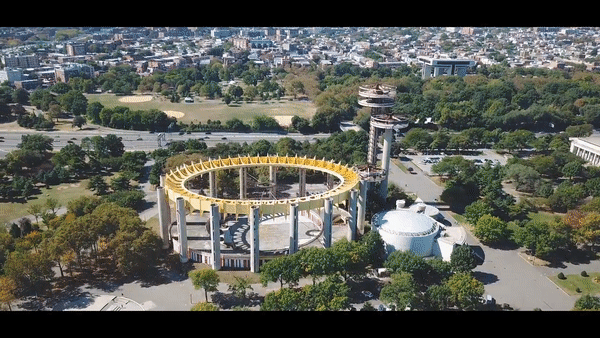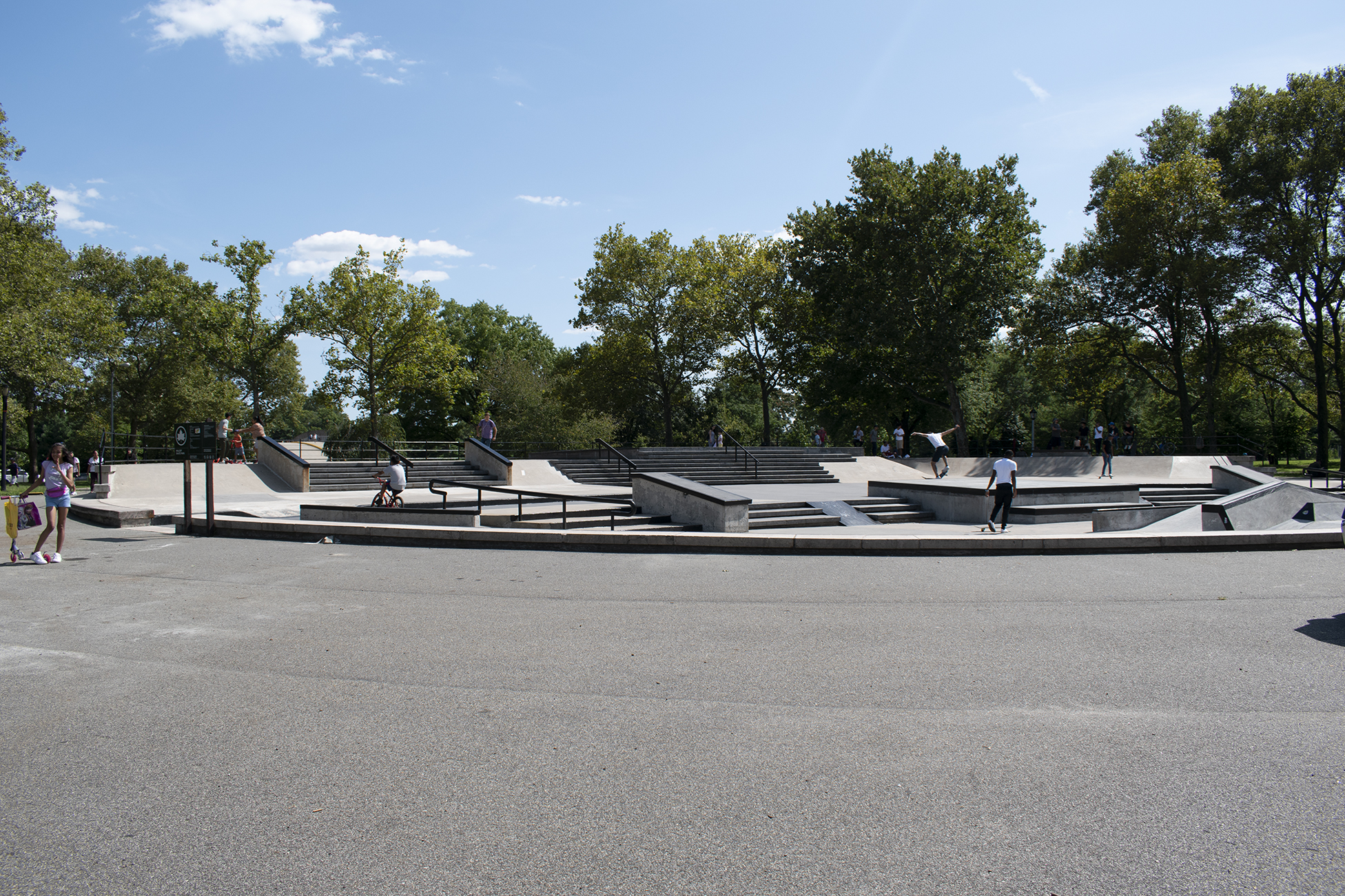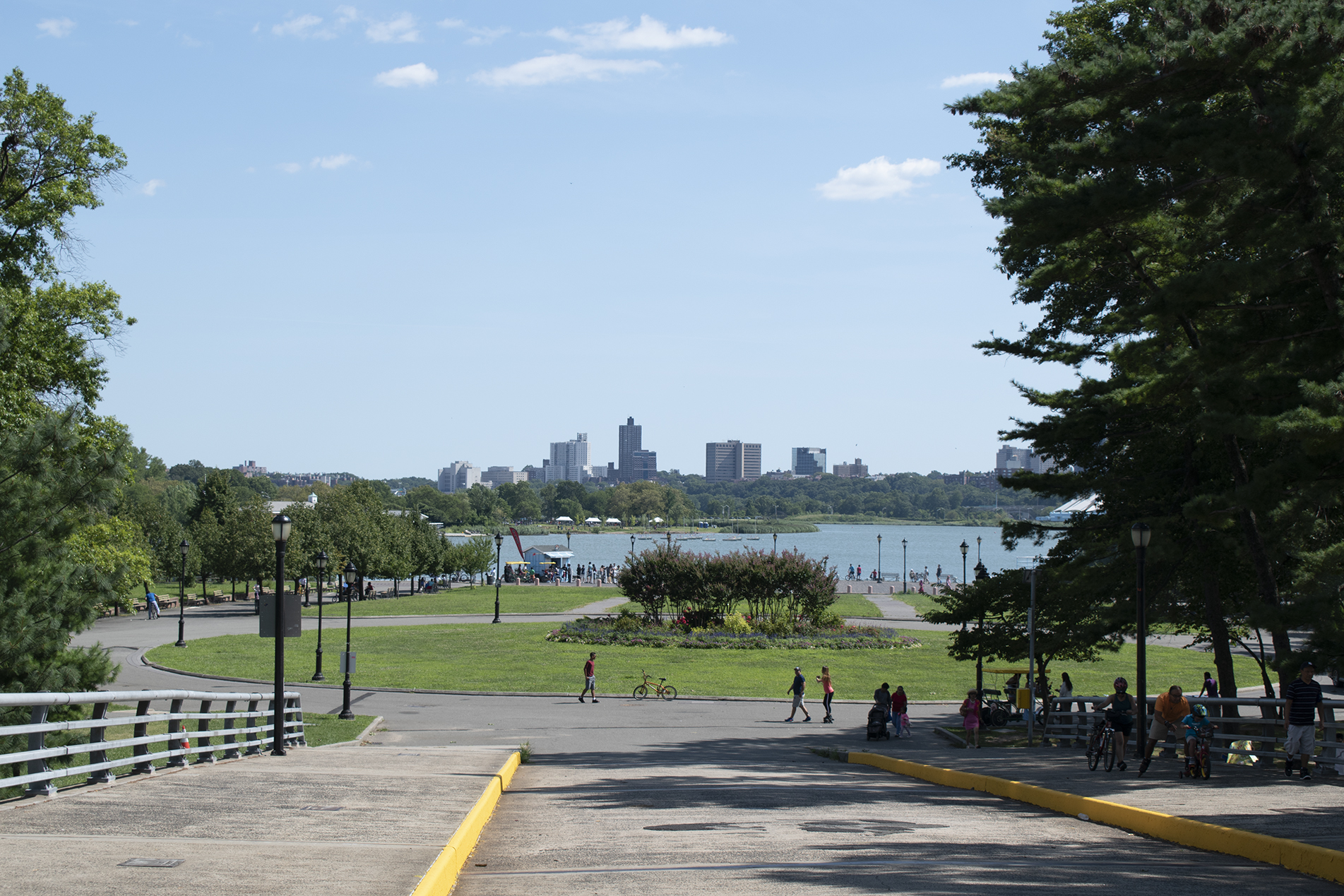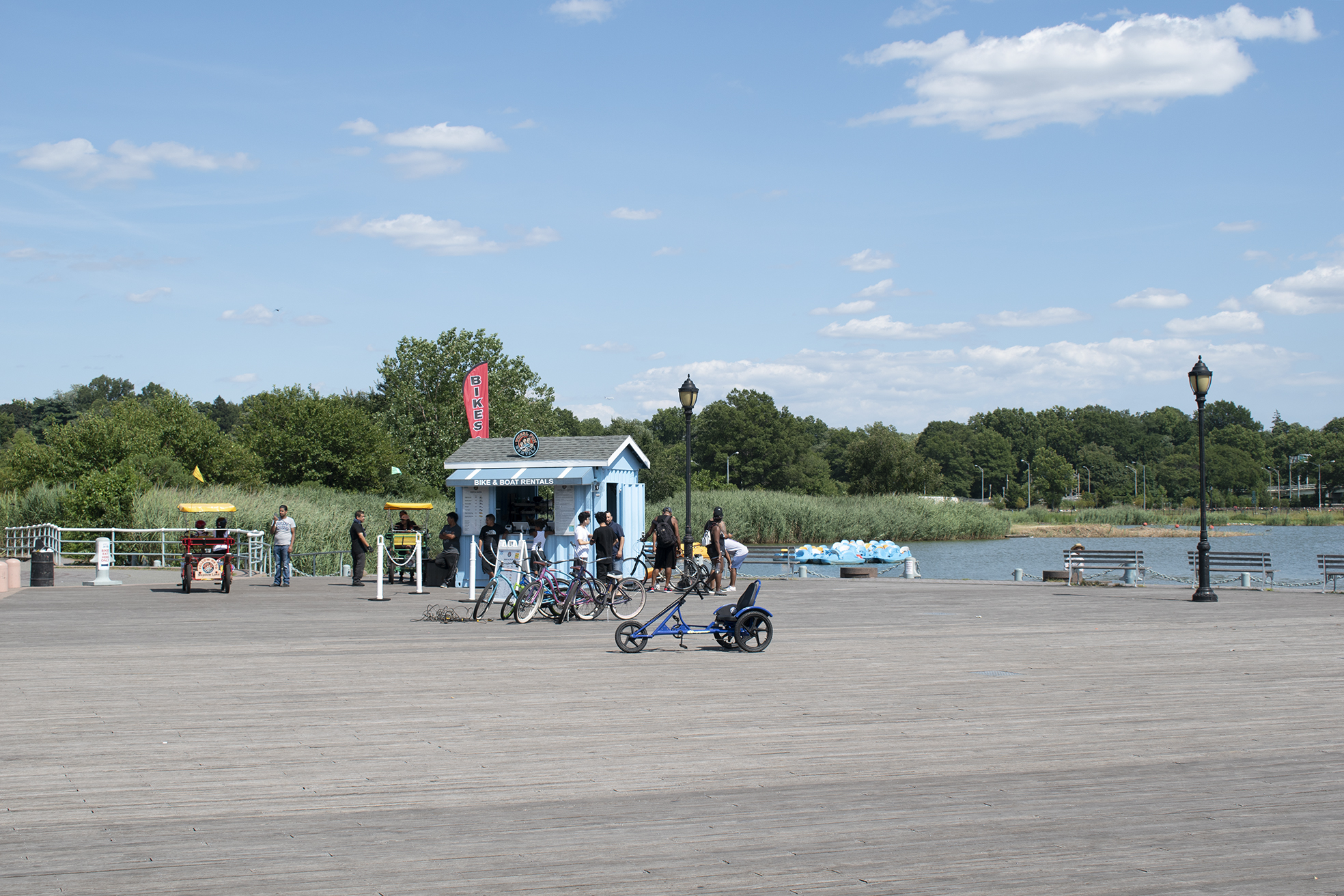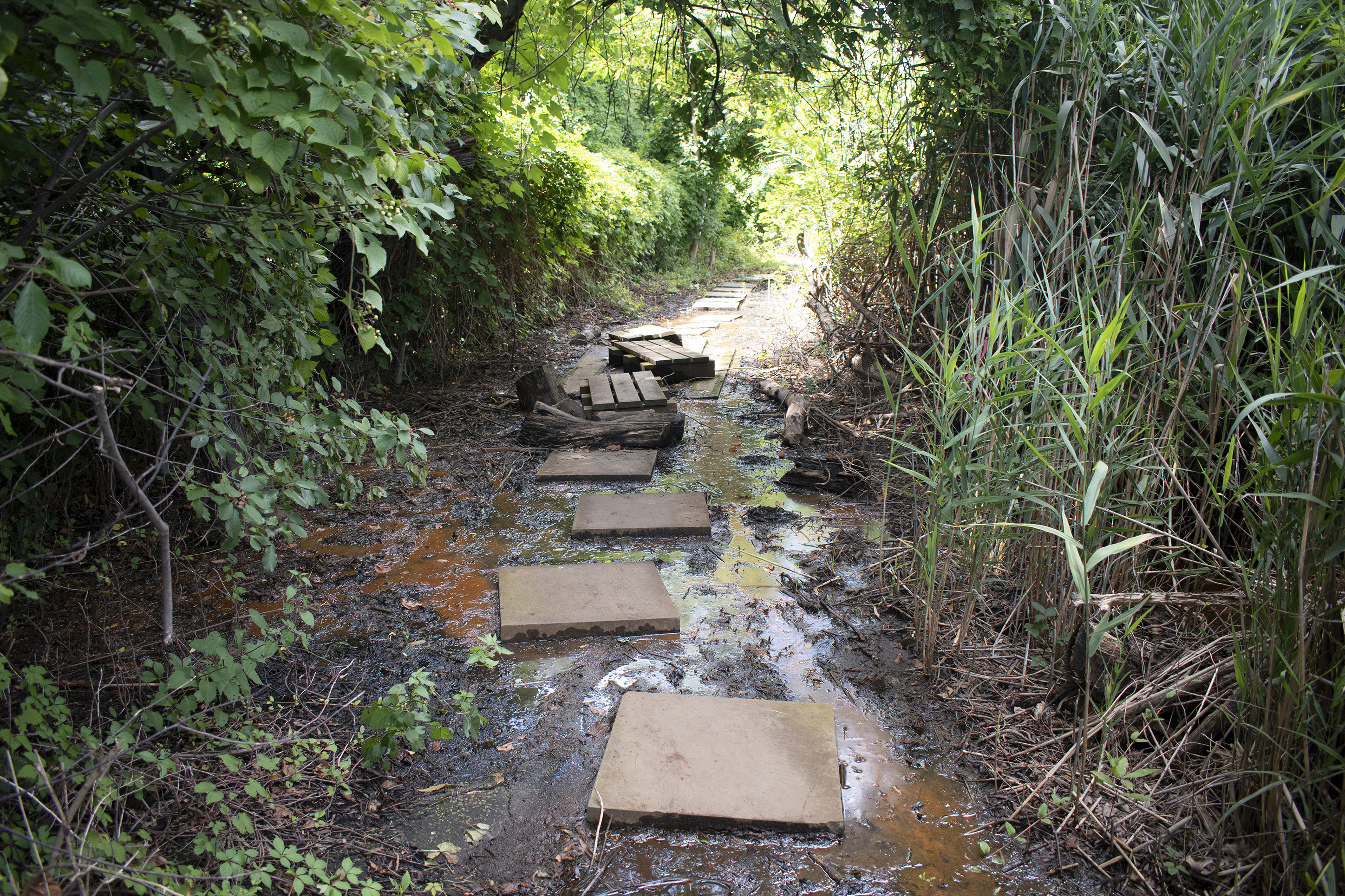 Demograhics and Land Use
It is interesting to note that all of Flushing Meadows is designated open space and outdoor recreation, but a decent portion of that is unusable or not actually greenspace. These are buildings and parking lots and green lawn cut off by the chains of highways and interchanges.

My thesis places emphasis and accountability on having the stadium create connections to its surrounding communities. So while my intervention will certainly contribute to the park's role as a regional amenity and large event site, it will just as importantly serve as a local community asset. A key component is establishing a strong, meaningful relationship with the neighborhood of Corona and its subdivision North Corona, located west of the park. It is a working-class, predominately Hispanic neighborhood that uses the park well due to its immediate proximity but in spite of the highway infrastructure that cuts off direct access. I intend for this neighborhood to benefit the most from its adjacency to my specific site within Flushing Meadows and the programming and policies I define.
Survey of North Corona and part of Corona
04 An Alternate Recent Past
Leveraging the Post-Olympic Bid Failure
The premise of my thesis is that my proposed intervention moves forward in the immediate aftermath of New York's failure to secure the 2012 Summer Olympics in 2005. The reason for this is that the Olympic bid itself and even one that ends in failure, creates extraordinary circumstances that can facilitate and accelerate the completion of large-scale, often stagnated urban projects that couldn't be execute in regular times. The reason for choosing New York's failed bid specifically is because its centerpiece, an Olympic Stadium located on Manhattan's West Side, was meant to catalyze a number of projects to meet gaps in New York's economy and infrastructure, but the defeat of the West Side Stadium proposal caused a last-minute scramble that shifted plans to Flushing Meadows.

Despite the bid failure, New York pushed ahead on a number of development projects—some of which had languished for decades. The city had explicitly expressed during the bid that they would move forward with them regardless of whether or not they got hosting rights. In the years since, numerous new stadia, residential, commercial and office buildings, and other amenities have been built on proposed Olympic sites. However, aside from the completion of the Natatorium, the city did not proceed with the proposals for Flushing Meadows, including the important remediation of the lakes. The city demonstrated that it was more interested in executing on the zoning changes and land development that the bid process enabled.

I believe that the extraordinary circumstances the bid allowed for could have been leveraged with more focus on Flushing Meadows, since it replaced the West Side as the site for the Olympic Stadium and was already a major venue cluster before that. This would have been an opportunity to move forward with a downsized proposal that sought to better serve the communities around Flushing Meadows and to tie together developments and vision projects in and around the park. In my scenario, the city decides to proceed with a reduced plan for a 25,000 seat soccer-specific stadium that will serve as the home for the Red Bulls. The New York City Football Club will join them after the franchise is proposed in 2010 and founded in 2013, rather than playing in the ill-suited Yankee Stadium as they do now.