︎
anti-choice protestors integrated into design imagery are real individuals that stand outside Pittsburgh clinics - any quoted language was witnessed or directed at me while escorting.
Designing Pro-Compassion
Conceptualizing Destigmatized Spaces for Independent Abortion Providers
A New Provider for Erie, Pennsylvania

Alina Kramkova, BArch 2020

Advised by Annie Ranttila, Nina Barbuto,
Erica Cochran Hameen

Coordinated by Josh Bard & Sarah Rafson

the fieldwork conducted for this research was made
possible by the Burdett Assistanship
Abortion providers in many regions of the US currently operate in a restrictive political climate, despite protections under federal law. In response, the restrictive geographies and fortress-like spaces of clinics threaten access and the emotional wellbeing of individuals with female-assigned reproductive systems. "Pro-compassion," a mission by Plants for Patients, the supportive wing of the Red River Women's Clinic in Fargo, ND, believes in challenging this harmful stigma around abortion and the polarization of our related cultural conversation by creating spaces of shared value for their community.

This thesis seeks to advocate pro-compassionately for other independent providers that serve a critical presence in areas deemed too risky for established organizations like Planned Parenthood to operate. While precarious, their lack of public presence gives them a level of flexibility to their image than larger organizations do not. In this space, architects have the potential to design contextually meaningful and compassionate spaces to continue reducing stigma and creating dignity for patients.

The Erie Pro-Compassion Health Center works to improve access to comprehensive reproductive healthcare for individuals surrounding and residing within Western Pennsylvania. Design decisions were not limited by budget and not impeded by local opposition. They are instead exploring a clinic that spatially responds to the threat of anti-choice action, protects against the stigma an individual feels and fosters collaboration with the community.
︎Glossary of Terms
Click here to learn about some of the terminology I have implemented in my project
01
Why do Designers Need to Engage in the Abortion Access Crisis?


Why Indie Clinics?
Anti-action is a spatial problem. Indie Clinics are resilient participants and the prevailing caregivers across the United State's Abortion Deserts.

Indies represent about 25% of facilities offering abortion care nationwide, yet they provide about 58% of all abortion procedures, compared to 37% at Planned Parenthood, 3% in hospitals, and 1% in private physician's offices. (Vice)




︎

In order to protect the Providers I visited, the research, photography, and drawings developed are not displayed in this virtual exhibition.

If you are interested in viewing the work please request access to this folder. If granted access, it is expected that you will not distribute this information.



What does Anti Action Look and Sound like?
︎
Click each gif above to open the linked videos. If you have never witnessed anti-action, please take a moment to learn what people risk to receive and provide comprehensive healthcare. And - if you know somebody directly involved - an escort, a nurse, a doula, a provider - please take some time to thank them now but also be sure thank them when everything is good - it is tough, draining, often life threatening work.
This collection of videos demonstrates real experiences and anxieties Abortion providers, and patients face everyday.
"You need to see this, and then once you see that decide for yourself what you should do about it" -Derenda Hancock,
The Pink House Defenders
&
We Engage
02
What Risks Must you Assess to Design for a New Provider?
The design matrix, presented right, is an evaluation tool that helps guide one's decision making ranging from choosing a site to understanding implications of aperture.

This is meant to only be a preliminary set of guidelines, based on my own experience and analysis, that guages macro to micro provider implications (anti - action) and positions them against potential design strategies. Red vs Blue is not intended to deter or propel one's answer, just to help guide one's risk assessment process.
Why Erie Pennsylvania?
Offering comprehensive, but contested services such as abortion and gender-affirming care in a politically divided city like Erie is a strategic move.



I have identified Erie, Pennsylvania, a former industrial city, as a promising location to integrate an indie clinic into an area targeted for redevelopment for healthcare and social services. There is a lack of comprehensive health education and services in the region, forcing people with female-assigned reproductive systems to rely on clinics in Pittsburgh, a three-hour drive away.
Matrix Key



My analysis into Erie's Abortion care history has demonstrated that the "fight" must be visible - this clinic must have presence. Anti ideologies are deeply rooted in Erie and its surrounding neighbors, made evident when a networked clinic was silently and quickly shut down through organized anti action in 2003.



Matrix Input
Pro-Compassion was first evaluated on the city scale - studying five different site options regarding their accessibility and vulnerability. Site C, which exists amongst other social service amenities was then further evaluated through Pro-Compassionate zoning strategies.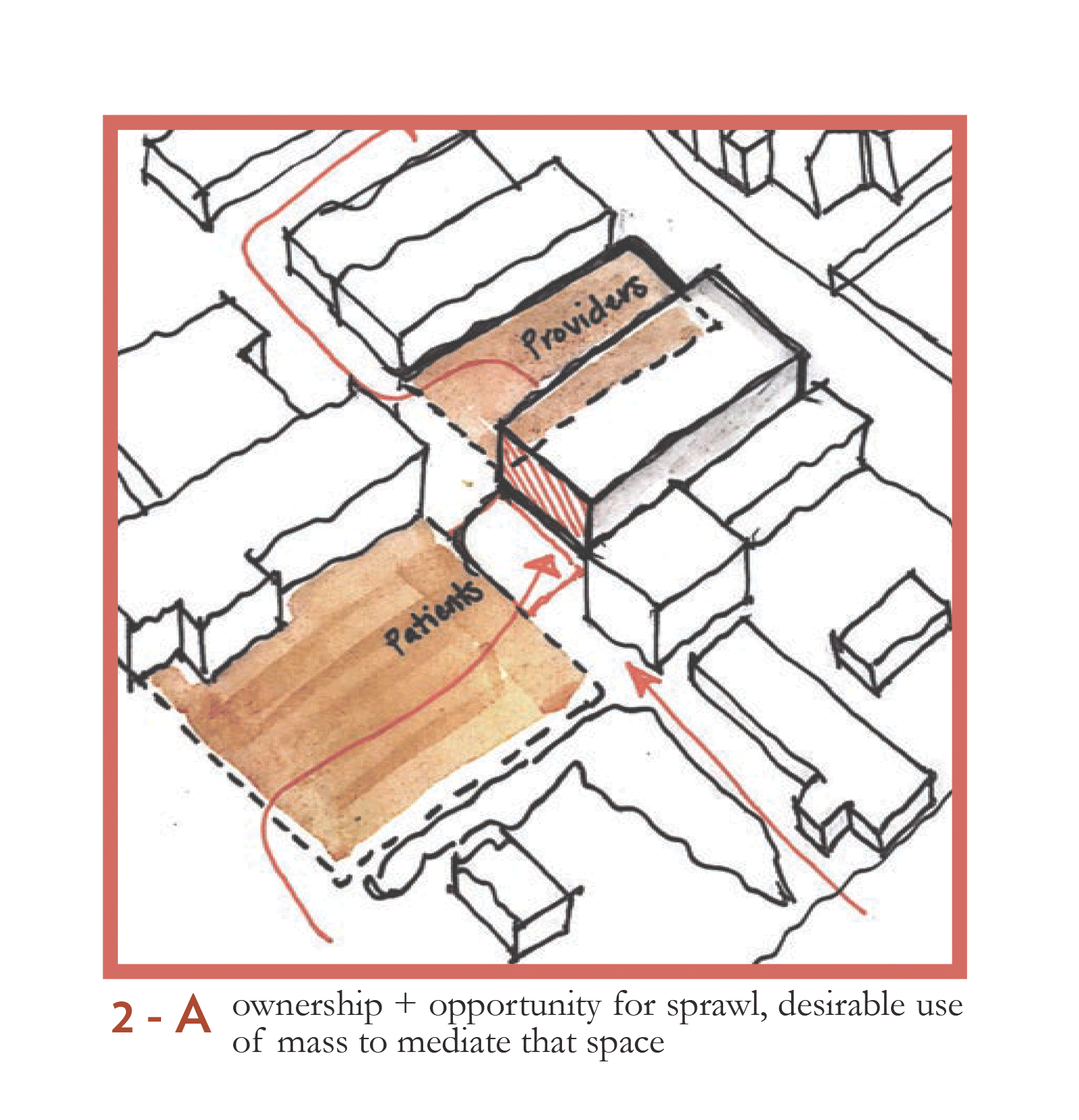 My initial matrix evaluation based on Erie contexts, was used to run through three site design explorations - further narrowed down into an approach that maximized both flexibility and security.
03
What does it Mean to Design
Pro-Compassionately?
To sensitively create zones of buffer that promot

e a sense of dignity, compassion, a

nd choice.
This design exploration of a new provider in Erie is only one component of this project: a casestudy or prototype, that demonstrates that the spaces of Independent Abortion Providers can be envisioned beyond their fortress-like exteriors. The design of these spaces can create positive, stigma-shifting experiences for Patients, Providers, and Reproductive Advocates. This process gives insight into how any state, and any site, has the potential to generate more Pro-Compassionate environments in its community.
What is the Pro-Compassion Story?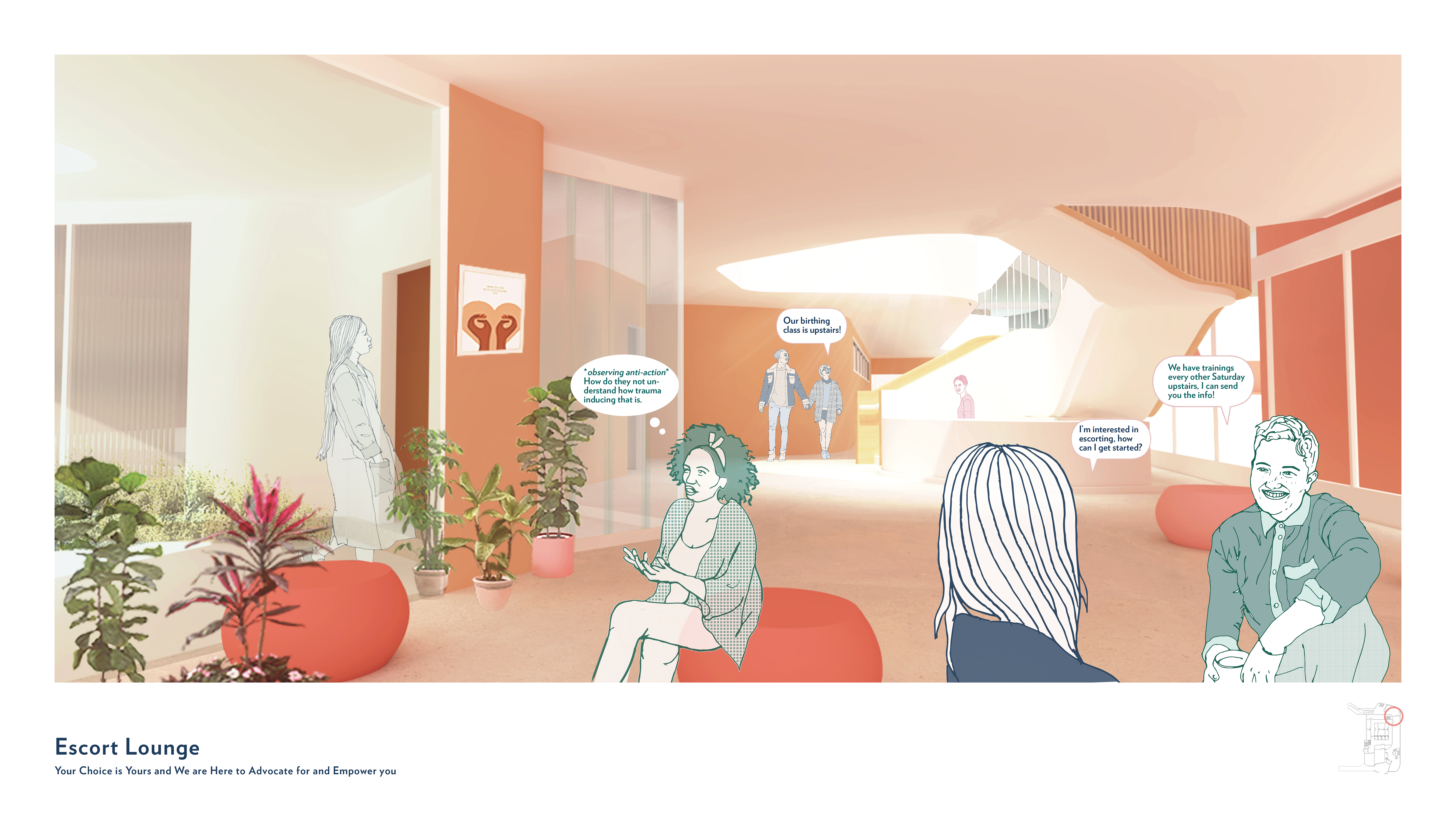 Abortion is, and always will be essential healthcare.

Please consider supporting your local Independent Pittsburgh Abortion Provider.
Allegheny Reproductive Health Center
is the only non-hospital provider of abortion up to the legal gestational age limit in this region. We are also the only non-hospital provider that does all levels of sedation including light, moderate and monitored anesthesia care (MAC) sedation.

Since the gestational age limits in Ohio and West Virginia are lower than Pennsylvania, many people travel to us for these procedures. If our clinic disappeared, many Pennsylvanians, Ohioans, and West Virginians would not have their urgent medical needs met.
As an independent provider that serves a vulnerable population and receives no government funding in politically uncertain times, it is devastating to imagine ARHC closing its doors.
If you have any thoughts, responses, comments, or ideas please don't hesitate to connect with me. My intent post-thesis is to continue
discussing the role design and designers can play in stigma shifting , and expanding access to comprehensive reproductive healthcare.


You can reach me at
kramkova.alina@gmail.com